Acrylic serves as a brilliant material for table surfaces and structures. Offering a timeless look with a modern edge, and benefiting from added resistance, and scratch-proof properties make it ideal for modern console table designs. In this article, we take a look at 10 stunning acrylic console table designs that fit a modern home decor.
The combination above, found in a project by Tiffany Eastman interiors, combines modern and classic elements, with carefully selected grey tones, and fitting accessories.
Moving from the standard pure acrylic look, using brass details on jointed areas and as supporting fixtures adds presence to the piece and overall context.
Resorting to alternative table surface finishes, such as lacquer and wood also offers an interesting contrast, working with classic and modern environments.
Softened corners ensures a balanced look which find character in the polished brass corners. A modern piece, this console table fits the sophisticated interior setting subtly.
See also: Mirrored Console Table Designs for a Sophisticated Decor
This pink acrylic console table designed by Alexandra Von Furstenberg (daughter in law to the iconic DVF) is simple and sleek. On the rocks takes a fresh approach to modern furniture design, maintaining spunk and elegance simultaneously.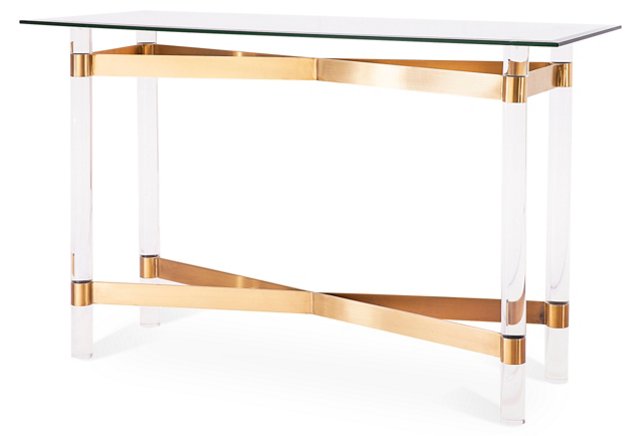 This ultra-modern console is fashioned with an acrylic frame and two X-shaped golden steel stretchers. A clear glass top offer a stylish surface for books, trinkets, and home accents.
Your favorite finds will float on this modern classic clear console table. Composed of two tiers of luminous glass and lustrous acrylic and polished brass corners that add extra brilliance. Light, airy and elegant, this console table will be a showstopper in any living space.
Strikingly simple, this acrylic console boasts crisp, clean edges and balanced proportions. Made in New York City.
See also: Inspiring Aged Mirror Console Table Designs