Everyone in the human species plays a contributing role in the development of Nature, and it's continuous exchange of resources. Playing a tremendously important part in terms of inspiring many artistic forms, nature influences so many aspects of the human life and the home each of us live in. In this article, we will share 10 great examples of console tables inspired by Nature.
See also: Get the Hampton's Look with these Stunning Console Tables

The Fortuna console table by Boca do Lobo represents the materialization of fortune, and a symbol of control over one's life. Made in its integrity from brass, this luxurious console's design is heavily influenced by flora and natural elements, with its base resembling a four-leaf clover, and surface a section cut from a tree-trunk.
Inspired by fauna and flora, the Lauridae console table by KOKET is both seducing and elegant. It features small Gold Dragonflies made from brass, silently perching on the console's front, serving an ornamental and practical purpose.
Brabbu's award winning Koi design is a timeless classic. It's metal is treated for aging, yet left in a somewhat raw state, maximizing the influence mother nature would have on the design's key subject.
The Elemental Hall Table is inspired by the organic forms in Colorado's mountains, which surround artist Derek Secor Davis' home.
Like a trunk's section cut stood on its side, the Dis Freedom console designed by the Phillips Collection is quite the art piece. It features intricate details throughout, and is a piece that surely doesn't go unnoticed.
Inspired by one of England's oldest and most important historical landmarks, Stonehenge, the  Ardara console by Brabbu is composed of smooth organic lines, and finished in uniform gold leaf – Simple and effective,
See also: 5 Stunning antique influenced modern console tables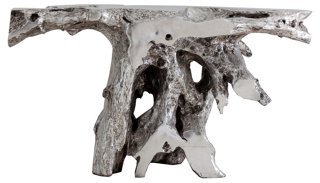 This organic shaped designed by Phillips Collection is a true statement maker. The Brivo, as it is called, is made from resin, and finished in silver coat, bringing out the best of it's natural features.
Tree roots have heavily inspired a wave of furniture makers and created a style of it's own. With very limited need for actual design, these pieces are often stunning, and entirely unique.
The Amethyst inspired Stellar console table designed by Jake Phipps. Having been featured on the blog in the past, the Stellar stands as an incredible design piece with clear influences from nature, and it's crystal forms.
Greg Klassen, an artisan furniture maker from the USA who was featured early on in the blog's existence designs furniture that maintain wood's natural feaures, with cracks covered in blue glass, creating small "lake like" elements.
See also: 10 Exquisite Modern Console Table Designs